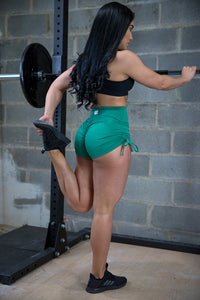 This guide was created it for people that like to exercise at home, a busy mom or a business woman who wants to get fit. This one is also perfect for those who have gym memberships with minimal equipment. It is designed to enhance your natural curves and improve your body. It suits beginners through advanced.
What's included:
- 5 Week Program to follow with written explanations and pictures of all exercises 
- 3 workouts a week
- Packed with tips and information to succeed in your fitness journey
- Includes exercises to target: Legs, Glutes, Quadriceps, Hamstrings, Calves 
- You will also have access to a private exercise library where you can see video demonstration for all exercises
- Workouts get more challenging as the weeks go on
- You will find some information about nutrition 
- This workout guide includes Progressions, Reps & Sets, Resting time between exercises
- Glute Activation Tips
- Cardio
What's Needed:
- Exercise Mat
- Set of dumbbells
- Resistance bands
PLEASE NOTE:
- When you make your purchase you will receive a confirmation email with a downloadable PDF document.
- All sales are final, no refunds available.